Do you know a "cruiser?" A cruiser is someone who frequently goes on cruise ship vacations. After working in wine hospitality for 3 years I came up with a new term: clubbers. Clubbers are people who belong to 2 or more wine clubs. I've met individuals who belong to as many as 7! And all clubbers have the same complaint: managing all their club accounts. So naturally, I set out to develop a software to solve that problem.
So Many Accounts, So Much Bother
Wine clubbers all face the same dilemma. The more clubs they join, the more accounts there are to manage. Each with it's own website, username, password, shipping schedules, events, etc.. Every time a clubber wants to change an address or credit card it becomes a major undertaking. Then there's the shipping. Most wine clubs ship 2-4x a year…but which months? Since alcohol requires an adult signature, clubbers become slaves to their homes waiting for wine shipments to arrive. Ask any winery, clubbers are their best customers, so why do they make it so hard to be one?
Since 70% of all wineries use less than 5 CRM systems,
I figured there must be a way to integrate wine club accounts.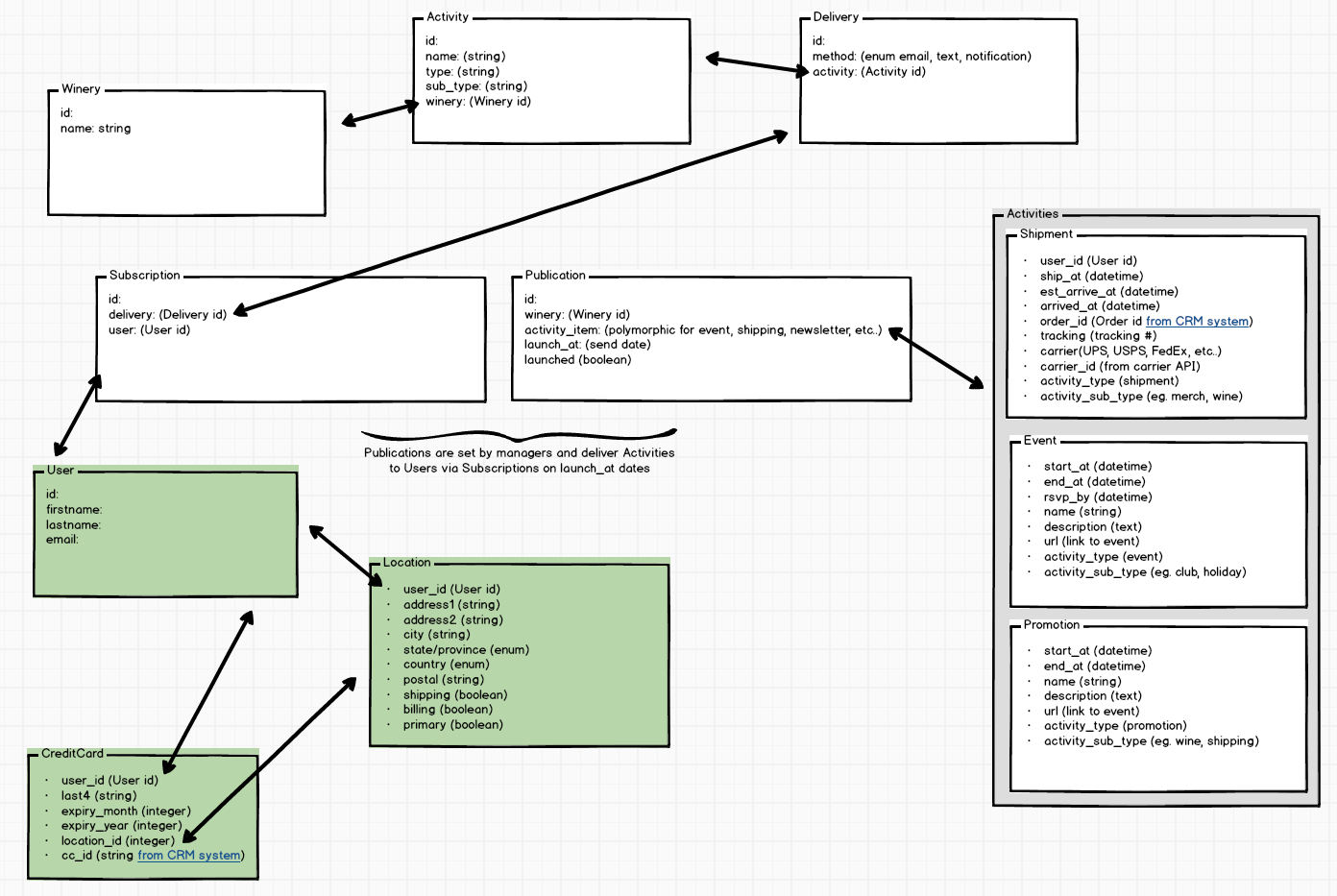 How It All Comes Together
In most wine clubs each member has an online account. For each membership YCC becomes a sort of omniauth for all accounts and accesses each CRM system's API to get/update information. Since YCC is an app, users can set notifications for upcoming club shipments and events for all their membership accounts. Since most wine CRM systems are tied directly to UPS and FedEx accounts, users should be able to control their shipments so that they arrive in the same timeframe. YCC also offers a feature where users can change their address or credit card in one place to update all their accounts. With YCC clubbers will no longer feel confined by their account management.
Software
Ruby-on-Rails v5
Bootstrap v3
This project is in-progress and being built as a proof-of-concept for winery CRM software providers. There is currently no demo.
Developer Notes
This was my back-end capstone project at Bloc.io. The project was inspired by my 3 year experience in wine hospitality where often times I would hear from customers, "I love your wines." To which, being the astute salesman, I would counter, "Then, you should join our wine club." I was surprised by how many times the reply would be, "I can't, I already have too many shipments to deal with." In more cases than not, adding another club is less a problem of money than it is of managing logistics. This project was too ambitious in scope for the time alotted, but I intend to circle back and complete this proof-of-concept as I think it has serious market potential.